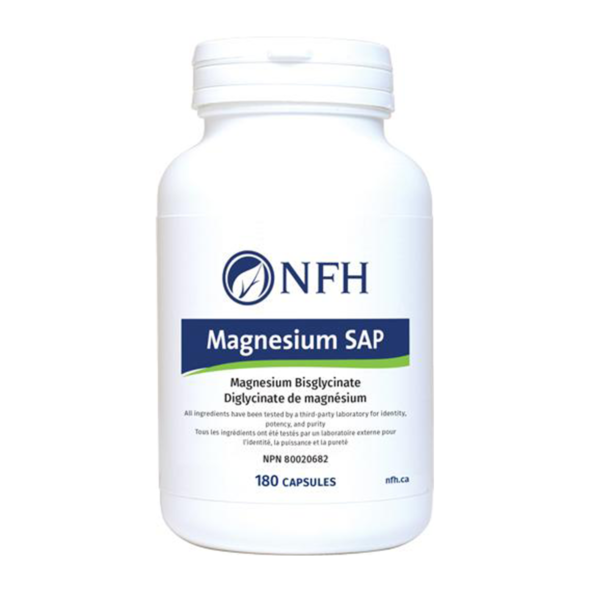 Magnesium SAP (NFH)
Magnesium SAP
Magnesium deficiency is one of the most common mineral deficiencies in North America. It can contribute to a multitude of symptoms and long-term health concerns. Magnesium is an essential mineral for the optimal functioning of the cardiovascular, nervous, and musculoskeletal systems. It also plays a role in mood stabilization and has been shown to be an effective treatment for major depression. Magnesium deficiency can also contribute to symptoms such as migraines, PMS, dysmenorrhea, muscle cramping, and insomnia. This deficiency is also commonly seen in alcoholics and patients with diabetes mellitus.
There are many different forms of magnesium, but magnesium bisglycinate found in Magnesium SAP has been demonstrated to be more readily absorbed and utilized by the body versus other ion forms.
Product Facts
Serving Size: 1 non-GMO vegetable capsule
Medicinal Ingredients
Magnesium (from 833 mg of magnesium bisglycinate) 150 mg
Non-Medicinal Ingredients
Hypromellose, Magnesium Stearate, Purified water, Silicon dioxide
Does Not Contain
Gluten, soy, wheat, corn, eggs, dairy, yeast, citrus, preservatives, artificial flavour or colour, starch, or sugar.
Recommended Dose
Adults: Take 1 capsule twice daily or as directed by your health-care practitioner.
Supplement Facts
Take 1 To 4 Capsules Once Per Day
1-4 capsules daily with food, or as directed by your health care practitioner.