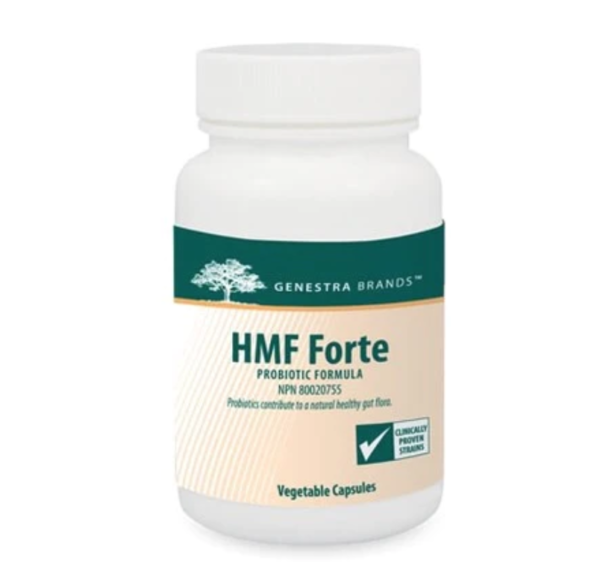 HMF Forte – Genestra
Product overview: Moderate level long term maintenance probiotic
10 billion CFU per dose
Includes fructooligosaccharides (FOS)
Ideal for vegans
Convenient capsule format increases patient compliance
Stress, medication, processed foods, environmental contaminants and lifestyle may be contributing factors which upset the delicate balance of the intestinal flora. HMF Forte is a moderate-level, long-term maintenance probiotic formula which provides two strains of proprietary human-sourced Lactobacillus acidophilus, Bifidobacterium bifidum and Bifidobacterium animalis subsp. lactis, along with fructooligosaccharides (FOS).
Serving Size: 1 Capsule
Amount Per Serving
Probiotic Consortium … 10 Billion CFU
Lactobacillus acidophilus (CUL-60)
Lactobacillus acidophilus (CUL-21)
Bifidobacterium bifidum (CUL-20)
Bifidobacterium animalis subsp. lactis (CUL-34)
Fructooligosaccharides (FOS) … 100mg
Other Ingredients: Cellulose, hypromellose, silica, magnesium stearate
Supplement Facts
Take 1 Capsule Twice Per Day
Adults and Children (6 years and older): Take one capsule two times daily with meals, or as recommended by your healthcare practitioner.