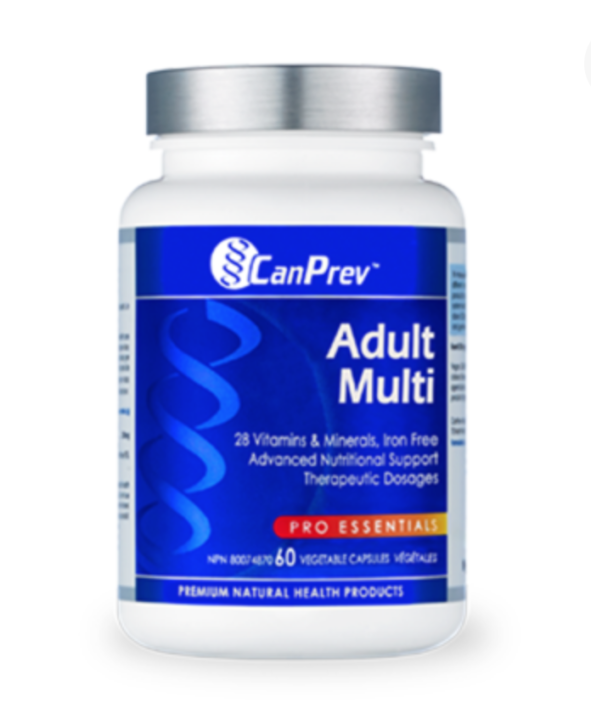 Adult Multi – CanPrev
Adult Multi
Vitamin supplement, mineral supplement, vitamin/mineral supplement, multi-vitamin, multi-mineral or multi-vitamin/mineral. A factor in the maintenance of good health. An antioxidant for the maintenance of good health.
Supplement Facts
Serving Size: 1 Capsule
Amount Per Serving
Vitamin A (acetate) 2500IU/750mcg
Beta carotene (natural) 1000IU/600mcg
Vitamin C (ascorbic acid) 100mg
Vitamin D (cholecalciferol) 500IU/12.5mcg
Vitamin E (d-alpha, natural) 50IU/33.5mgAT
Vitamin K1 (phytonadione) 60mcg
Vitamin B1 (thiamine HCL) 25mg
Vitamin B2 (riboflavin) 25mg
Vitamin B3 (niacinamide) 25mg
Vitamin B5 (D-pantothenic acid) 25mg
Vitamin B6 (pyridoxal-5-phosphate) 25mg
Biotin 50mcg
Folate (folic acid) 400mcg
Vitamin B12 (methylcobalamin) 250mcg
Calcium (citrate) 40mg
Chromium (chromium polynicotinate) 50mcg
Copper (copper citrate) 500mcg
Iodine (laminaria digitata/ascophyllum nodosum) 100mcg
Magnesium (magnesium bisglycinate) 10mg
Manganese (Manganese citrate) 500mcg
Molybdenum (sodium molybdate) 15mcg
Potassium (potassium citrate) 10mg
Selenium (selenium yeast) 50mcg
Vanadium (vanadyl sulfate) 15mcg
Zinc (Zinc citrate) 5mg
Choline (choline bitartrate) 10mg
Inositol 10mg
Lutein (marigold extract) 3mg
Other Ingredients
Vegetable-grade magnesium stearate, vegetable capsule.
Gluten Free, Dairy Free, Non GMO
Suggested Use
Adults – Take 2 capsules per day with food, a few hours before or after taking other medications or as directed by a healthcare practitioner.
Cautions and Warnings
Caution advised during pregnancy and breastfeeding.The iodine in this product is naturally sourced from seaweed, and so may have come into contact with crustaceans. Caution advised with allergies to shellfish.
Drug interactions
Caution advised when used concurrently with blood thinners.
Supplement Facts
Take 2 Capsules Once Per Day
Adults – Take two (2) capsules daily with food and a few hours before or after taking other medications or as directed by a healthcare practitioner.