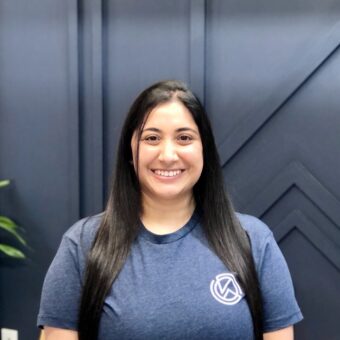 Yatrika is a registered physiotherapist with a passion for optimal movement. She earned her Master's in Physical Therapy from the University of Alberta. Prior to that, she completed her Bachelor of Science in Kinesiology & Health Science and Bachelor of Education from York University. Further, she is a Clinical Exercise Physiologist, who has worked within different communities to help people strive towards better health and fitness.
Yatrika's passion for helping patients return to not only their best physical state but also their best mental state stems from her own personal ACL knee injury. She understands that an injury can impact many aspects of life. She strives to create a positive and enjoyable experience for each patient to help them towards their goals. Yatrika's treatment style is tailored to each patient and their needs, which includes education, manual therapy techniques (including acupuncture), and individualized exercise programming.
Yatrika believes in lifelong learning and is always looking to expand her skills and knowledge as a healthcare practitioner. She is certified as a Functional Range Conditioning mobility specialist, in addition to having a specialization in Functional Range Assessment, both of which stress the importance of joint health and mobility training. She plans to continue furthering her knowledge in manual therapy and has an interest in shoulder specificity.
Outside of work, Yatrika enjoys staying active by Olympic weight lifting and exploring the city.
Education credentials
- Master's in Physical Therapy (University of Alberta)
- Bachelor of Science in Kinesiology & Health Science and Bachelor of Education (York University)
- Contemporary Neurofunctional Acupuncture (McMaster)
- Functional Range Conditioning
- Functional Range Assessment
- Clinical Exercise Physiologist (Canadian Society for Exercise & Physiology)

Treatment Applications:
Education, Manual Therapy Techniques, Acupuncture, Individualized Exercise Programming, Joint & Mobility Training, Shoulder Injuries