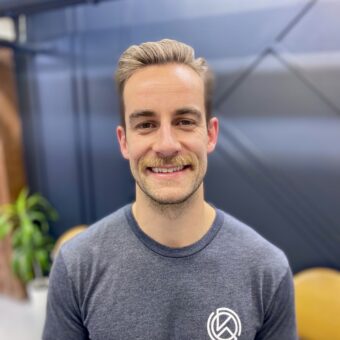 Gavin is a bright "Rehab-Based'' Chiropractor dedicated to helping you get back to movement and exercise. Through his years of experience, he is able to confidently address musculoskeletal pain and injuries throughout the body. Inspired by his love for physical activity, Gavin strives to bridge the gap between rehab and athletic performance for his clients. This has given him the opportunity to work successfully with several professional and amateur sport organizations, including athletes from the CrossFit Games.
He is also the Clinic Director at Kinect Rehab & Performance.  He is recognized for his desire to foster a strong collaboration, clinical practice, and culture among the team. He also makes a pretty good cup of coffee. Pour-over Coffee, for those interested in joining our team.
During Gavin's recreational time, he likes to remain very active. You will catch him involved with various seasonal sports, regular strength and conditioning work, or a CrossFit class to catch up with friends and clients.
Education credentials
· Doctor of Chiropractic (Summa Cum Laude) - New York Chiropractic College (NYCC)
· Honors Specialization Kinesiology - Western University
· Sport Science & Human Performance Advanced Certificate
· Prague School to Athletic Development Certificate
· Concussion Prevention, Detection & Management Certificate
Treatment Applications:
- Spinal & Extremity Joint Manipulation, Functional Movement Technique Certified, Myofascial Active Release, Instrument Assisted Soft Tissue Mobilization (IASTM), Functional Movement Kinesiotaping,